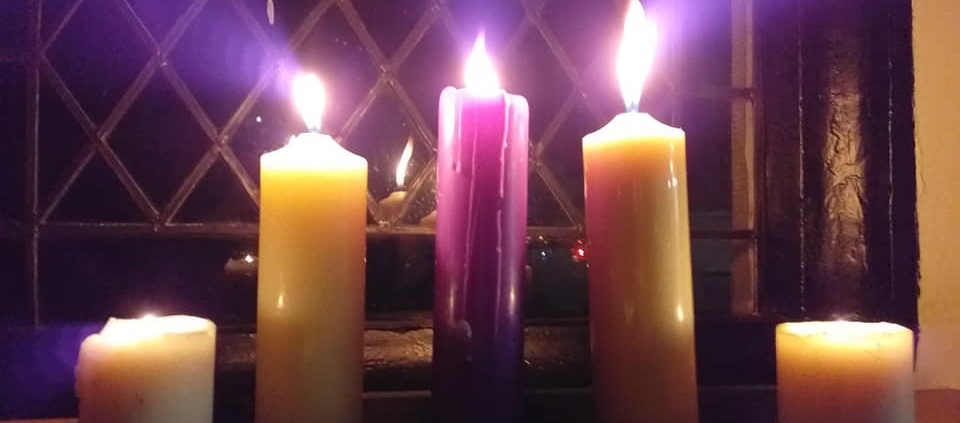 Throughout this penitential season of Advent there will be a service of Compline each Wednesday at 8pm in St. Columba's.  This will be a timely opportunity for us to pause from the noise and busyness of these days.  I am very pleased that Bishop Alan Abernethy will be joining us for some of these short and reflective services.  Bishop Alan is familiar to us as he has conducted Lent services here in St Columba's and I am looking forward to welcoming him back to our parish.
Bishop Alan writes, "Advent is often missed because of the busyness of preparing for Christmas. However, it is a beautiful reminder of how we prepare for the arrival of Jesus. We look forward to the second coming and we prepare again for the word becoming flesh at Christmas.
I believe we can experience "Advent Moments" everyday as we can recognise God in the everyday events. This advent I suggest we examine three words as part of our preparation: waiting, listening and watching. Waiting is not something we find easy in a culture where so much is immediate. Waiting engages our mind and heart. Listening is a decision and an active engagement. This engages our ears. Watching is about having our eyes open to the prompting of the Spirit in the everyday.
We will reflect on these three words as part of our celebrating the advent season. Please consider taking time to wait, listen and watch in this Advent season."
Compline is known as "Night Prayer" service, and is the English word is derived from the Latin completorium, as compline is the completion of the waking day. It is a final prayer liturgy of the day which emphasises spiritual peace.
The services will begin at 8.00pm on Wednesday 6th, 13th and 20th December, and I invite you to join us as we prepare for the Christmas season of worship.
http://stcolumbas.down.anglican.org/wp-content/uploads/2021/11/5042F8C5-4B8D-4589-8602-93DABE4894B4.jpeg
720
960
Karen Patterson
http://stcolumbas.down.anglican.org/wp-content/uploads/2021/09/Screenshot-2021-09-24-at-22.32.27-3-300x138.png
Karen Patterson
2023-11-21 12:23:05
2023-11-21 12:23:19
Compline for Advent Midweek Services in December